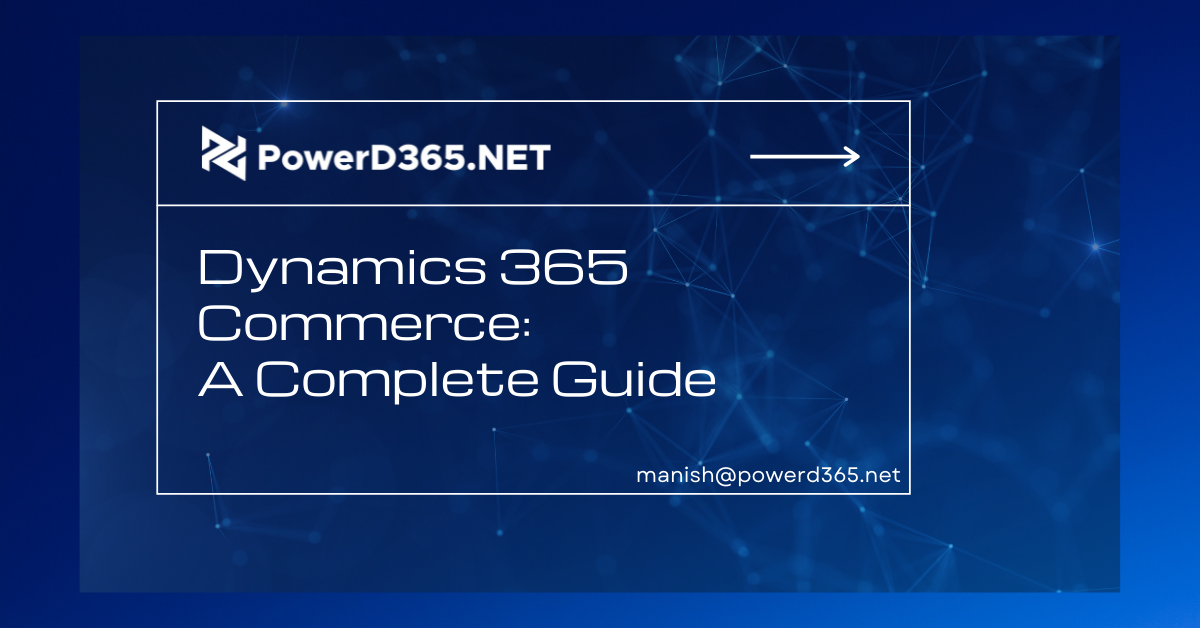 One of the best models for e-commerce businesses is Microsoft Dynamics 365 Commerce.
Dynamics 365 Commerce is a powerful e-commerce tool.
Like many constellations, ecommerce firms are dispersed across the internet. Only a handful succeed, while the rest strive to establish a competitive advantage over their competitors. While convenience and management on the go make life easier, e-commerce firms require the correct platform. One of the best systems for e-commerce businesses is Microsoft Dynamics 365 Commerce.
You won't want to miss this unravelling.
What is Microsoft Dynamics 365 Commerce, and how does it work?
D365 Commerce is an app that replaces the Retail app's many foundational elements with an all-in-one platform that unifies e-commerce, back-office, and brick-and-mortar business operations. It enables organizations to increase employee productivity by a factor of ten and develop a loyal brand. Supply chain innovation ensures that business operations run smoothly, resulting in increased profitability and revenues.
For precision and increased business productivity, Commerce provides users with a variety of solutions specialized for individual enterprises and industries.
Cross-channel customer engagement– allows customers to have ownership of the acquired items by allowing them to determine when, where, and how the products or services are delivered.
Improved customer loyalty– Commerce creates a consolidated platform for storing customer information and assisting in the understanding of company requirements. This aids in the development of a long-term relationship with clients. (Brand identity is strengthened by integrating AI characteristics.)
A grouping of apps– Choose from a variety of e-commerce-friendly applications that offer end-to-end features that grows to fit your demands.
Services that are devoid of friction– A dependable client experience thanks to back-office capabilities that have been fully streamlined and integrated with machine learning and artificial intelligence.
It is adaptable– to accommodate a wide range of operating needs while also adhering to security and compliance rules.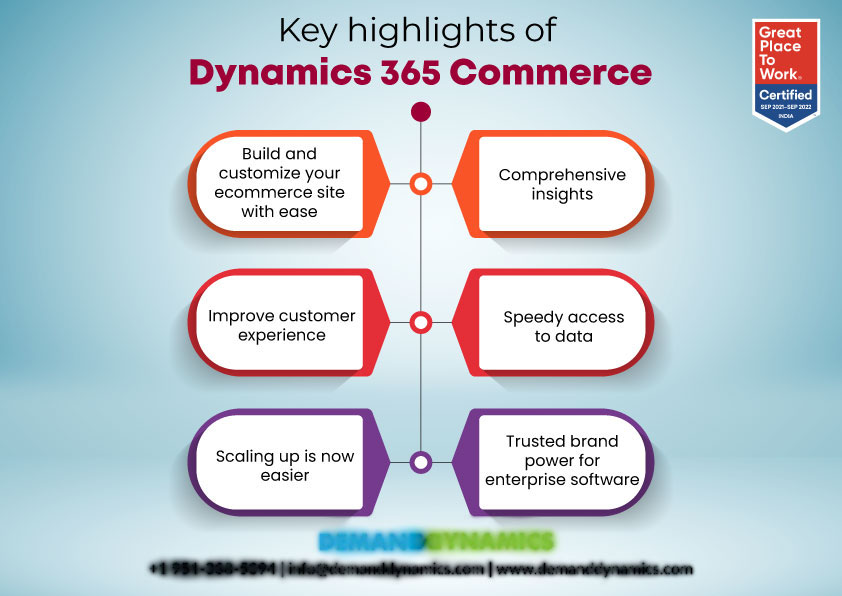 6 Reasons to Think About Using Dynamics 365 Commerce for Your Company
D365 Commerce's main features include:
1. With convenience, create and modify your e-commerce site.
The Store Starter Kit includes web-authoring and development tools that you may use to create your site. When it comes to adopting Commerce, the size of your company doesn't matter; you can modify it to your needs and grow it up as needed. The sample includes a fake phrase that you may use to learn how to use the modules.
The modules are as follows:
1. Container
2. Product details page
3. Marketing
4. Purchase
5. Search
6. Account management
7. Recommendations
8. Header and footer
9. Buy online pick up in-store
10. Comprehensive insights
When you join the Microsoft ecosystem, you'll have access to a variety of applications, services, and AI-based capabilities.
2. Optimize the client experience
With Commerce's integration with D365 CRM, you can keep track of customer behavior, relationship management, new customer acquisition, existing customer retention, and loyalty programmes. This allows you to provide the correct level of assistance to your consumers, increase engagement, and alter your marketing strategies as needed.
3. Data access that is efficient
Because commerce is cloud-based and centralized, you may access any data or insight you require at any time.
4. It's now much easy to scale up.
When you need to add software or scale-up, you don't have to worry about physical space or hardware needs because you're doing business in the cloud. Data security, as well as frequent upgrades, are also taken care of.
5. Enterprise software with a trusted brand
It's much simpler to say than to accomplish. Similarly, when it comes to D365 Commerce, you'll need to do some preliminary research. Because there are so many aspects you don't know about yet and a slew of information to consider, you can't afford to skimp on the groundwork.
Before you start working, here's what you need to know about Commerce:
Microsoft's Lifecycle Services portal (LCS) and Azure access: LCS is the Lifecycle Services portal. Having access to it, as well as Microsoft Azure, will guarantee that activities run smoothly. The Azure subscription, e-commerce system, group ID, moderator group ID, AAD tenant ID, and ad rating group ID must all be accessible.
Feature unavailability: If you choose on-site deployment over cloud deployment, you may be unable to use some features since on-site deployment has a limited list. You won't, for example, upload the data to cloud infrastructure, even if it's on Azure.
Issues with compatibility: The Dynamics 365 suite app includes compatible add-ons and plugins. They can work together with other Microsoft programmes to develop e-commerce platforms that are promising. Third-party programmes, on the other hand, will have compatibility issues, thus they aren't as highly recommended.
Pricing: For small to medium-sized organizations, pricing may appear to be a bit oppressive. His is because a user costs roughly £135.70 per month, and if you want to access the consumer insights tool, you'll have to pay thousands of pounds. In addition, there will be an additional fee for fraud protection.