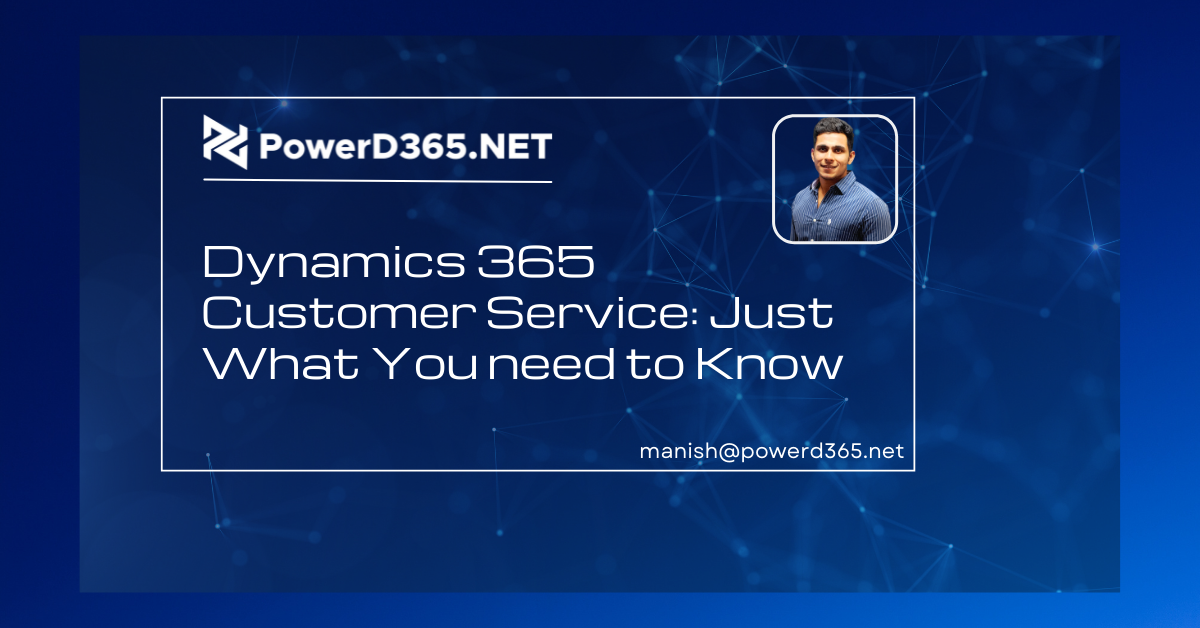 Dynamics 365 Customer Service focuses on promoting consumer engagement by facilitating users in meeting customer needs by offering prompt, tailored service. It may assist your business in engaging with consumers, motivating your workforce, and discovering new ways to add value. Microsoft Dynamics 365 for Customer Service may help your business boost customer loyalty and revenue by allowing users to participate on their own terms, whether through self-help or staff support.
What is the purpose of Dynamics 365 for Customer Service?
Microsoft Dynamics 365 for Customer Service is a feature-rich, customer-centric solution intended to give the greatest customer service experience practicable. Furthermore, because all of these solutions are built on top of Microsoft's Data verse data architecture, they provide a unified approach to performance, allowing organizations to use exactly the capabilities they demand.
Furthermore, the AI-enabled agent experience, multiple-channel handling, and the deployment of the necessary productivity tools all contribute to a seamless and effective workflow for your workforce. Furthermore, clients may employ knowledge and insight to answer particular questions, and representatives are simply a Google search away if they want additional support.
What are the perks of using Dynamics 365 for Customer Service?
Solution for self-service: Activate high-quality virtual agents for easy self-service solutions to provide continuous client care.
Simple and rapid resolution: No matter how complex the problem, Dynamics 365 offers AI-powered chatbots for simple and quick redressal and resolution.
Highly adaptable: Through a 360-degree perspective of your consumers, you can develop tailored customer interaction and communicate with them via their chosen channel.
One platform for everyone: Switch between completed and unfinished chores with ease thanks to an integrated dashboard that is user-friendly and straightforward to use.
Customer feedback: Using Dynamics 365's CRM solution, create and distribute online surveys. Analyze and act on your consumers' comments all at once.
Keep track of performance: Real-time business insights are provided through performance metrics such as case volume, priority cases, average resolve time, active cases, and many more.
Integration of Power Apps: You can improve Dynamics 365 Customer Service even further by connecting other Dynamics 365 products such as Dynamics 365 Sales and Dynamics 365 Marketing. The integrated features of these power apps can assist you in providing exceptional customer service and other relevant sectors.
What are the Customer Service functionalities of D365?
Customer Service Center:
At its most basic, the Dynamics Customer Service Hub provides a consistent interface for team members to access all account and provider problem information.
Entitlements:
In Dynamics 365, entitlements dictate the amount of help offered to clients. Customer Support in D365 will compute the outstanding case/hours permitted depending on the requirements stated as long as the entitlement is active, allowing client service professionals to focus only on addressing issues.
Voice of the customer:
This feature provides customers with the most alternatives for swiftly and simply gathering feedback in your Dynamics 365 installation. Anyone may create inquiry forms using the simple drag-and-drop builder.
Service Level Agreements (SLAs):
If an SLA is established for a customer, the SLA information will display under a tab at the bottom of each case created for that consumer, along with continuing timings depending on the contract.
Knowledge Articles:
Managing knowledge articles with Dynamics 365 offers various benefits, including the ability to keep several versions of the same knowledge article. Users can also translate and share expertise with customers.
Service Activities and Scheduling in Dynamics 365:
Dealing with Customers Businesses may coordinate resources to help visitors by developing Service Activities with clients. Different source groupings may be defined, and certain personnel can be dispatched on visits based on their availability.
How do you put Dynamics 365 for Customer Service into action?
Because deployments necessitate a multi-tiered strategy to ensure that the system is implemented in conjunction with other related technologies. Here are the stages for implementing Dynamics 365 Customer Service.
1. Needs assessment and implementation
The initial step is to meet with the management team and discuss your company's basic software requirements.
2. Requirements analysis
The team begins the project after knowing the fundamental demands and then understands the precise criteria and specifications of the solutions you desire.
3. Solution design and development
Following analysis, the team works on developing features based on the needs of the company or modifying a feature from the current set of combinations offered by the Dynamics 365 platform.
4. Implementation of the solutions
Dynamics 365 for Customer Service is now available to help you establish top-tier customer service and communication for successful management.
Furthermore, the solution upgrades are sent out with regular check-ups, training, and testing to understand the solution's efficacy. A company's dependability may be determined by its customer service. Maintaining a good, long-term relationship with your customers is the key to an ever-expanding client base. Regular monitoring of all exchanges makes future difficulties easier to resolve, ensuring complete client satisfaction.