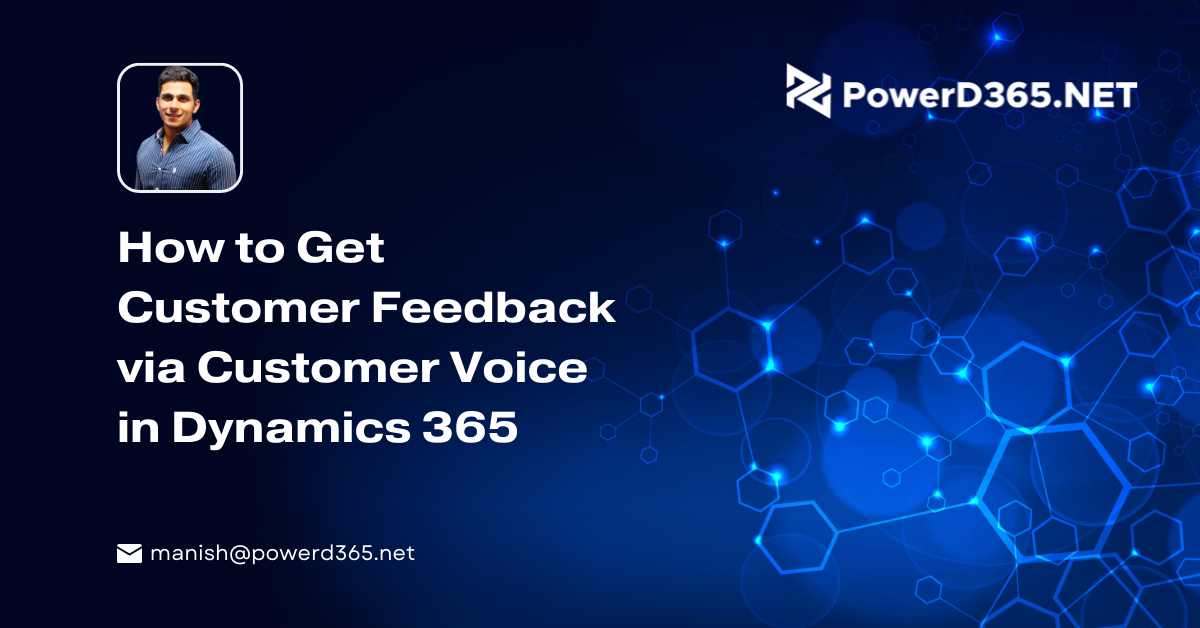 Microsoft has introduced several changes in its online platform and introduced ERP-style application suites to improve its working and enhance integration and usability for its users. Dynamics 365 Voice features are one example that has improved Dynamics 365 drastically; it is a step that has specifically been taken to seek and process customer feedback.
How does it work?
Customer Voice has been built on the features of Forms Pro; through this feature, Microsoft has introduced tighter integration which means that this feature allows intuitive use and better customer experience. Users can benefit from existing knowledge of Power Platform Products and produce scalable surveys. Features like power automation can help users in this regard.
Benefits of Customer Voice
Customer voice can be used to send surveys to customers to increase customer/seller interaction.
It is particularly useful to resolve a case.
It can improve the efficiency of Dynamics 365
How to use Customer Voice: a Step by Step Guide
The first step is to install the Customer Voice feature in the desired environment. They are many ways to do this; however, the easiest one is to navigate to the Power Platform Admin Center.
Open https://admin.powerplatform.microsoft.com and press on Resources in Dynamics 365 Apps.
After that click on the option of "Dynamics 365 Customer Voice" and press the install button; you should know that these steps require System Administrator Permission.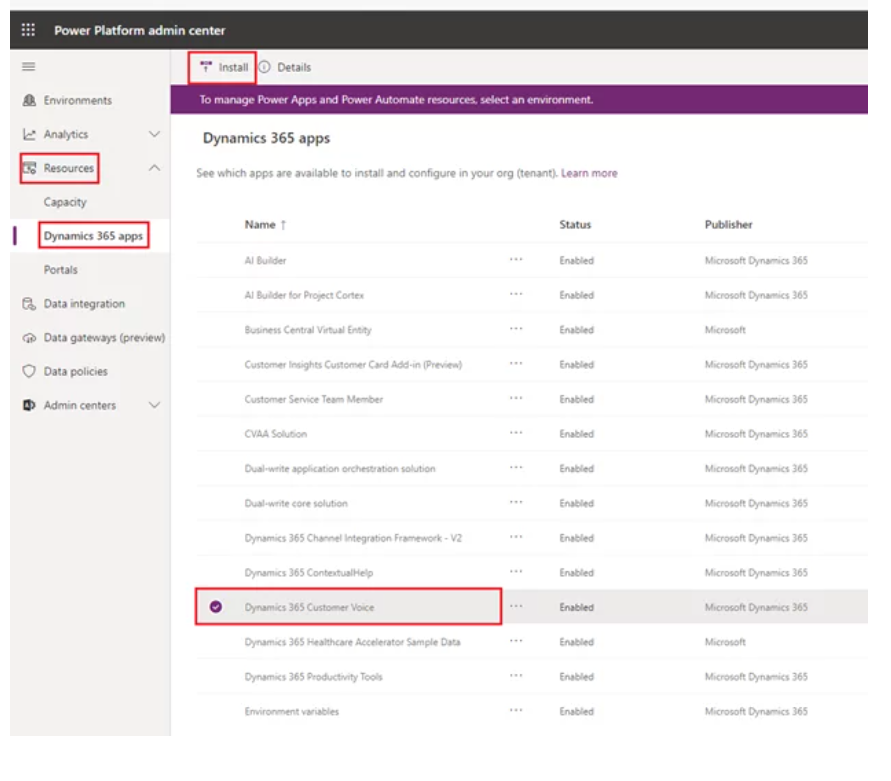 Furthermore, you will be asked to choose an environment and confirm your option. Choose the appropriate option and move ahead.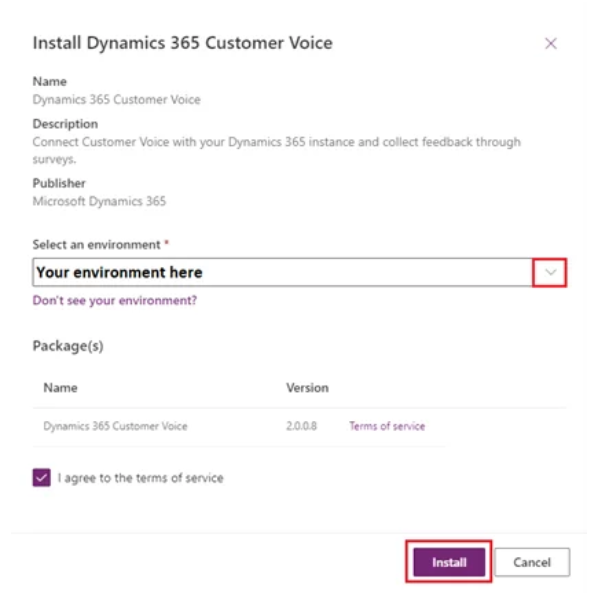 Once you install your desired solution, the next step is to navigate to https://customervoice.microsoft.com; the home page of Customer Voice. Here you will find all the projects and surveys.
Next, click on the "new project" icon and you will find a page where you can set up a survey.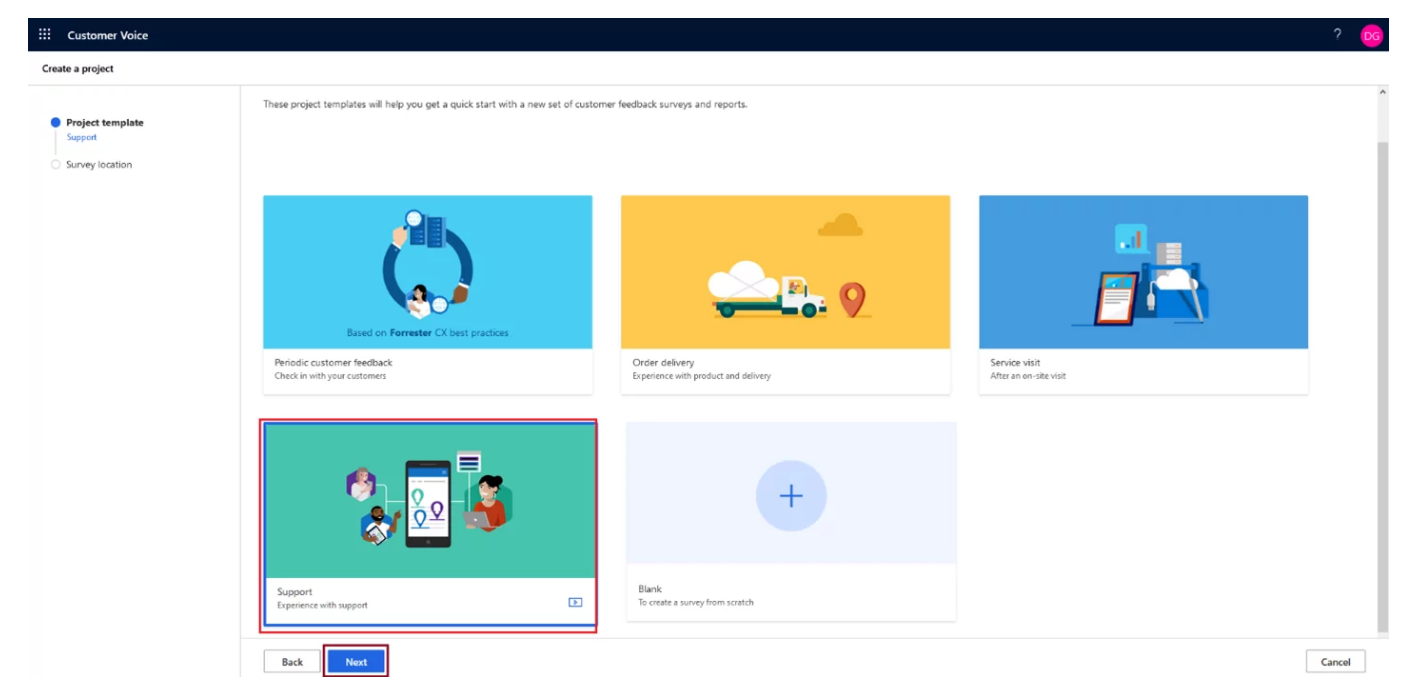 You will be able to create your survey from scratch. Moreover, you will have several templates in Customer Voice. You should remember to create the survey you will need to enter details of your location and environment; choose the same environment as Dynamics 365.
Once you will create the survey you will see that some information is already there including a header and questions with various types of answer formats. You can easily configure all of these and modify questions according to your requirements.
Once the survey is set up according to your requirements, you will need to identify a trigger behavior that will make sure that the survey is sent to the customers. Click the send button where you will see several options. You should remember to choose the option of automation here as this option allows us to trigger Dynamics behavior using Microsoft's power automate tool.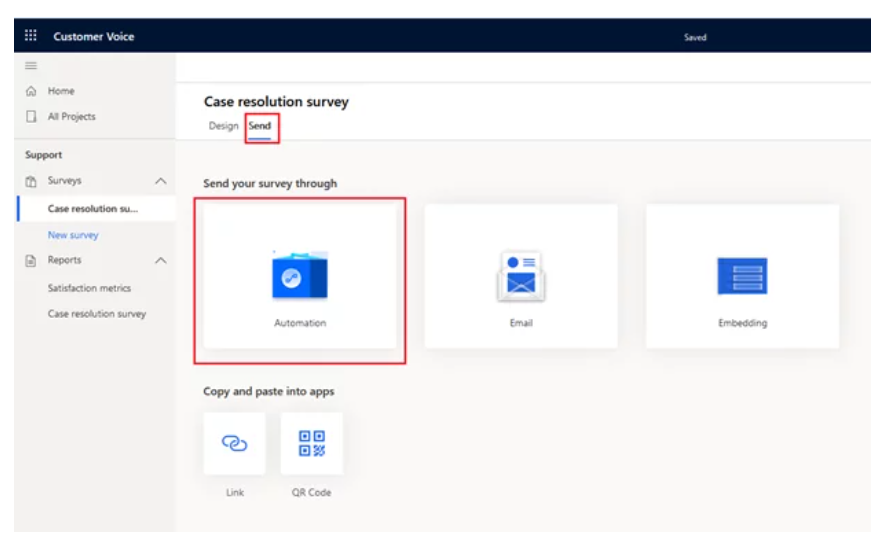 Once you click automation you will see some templates which will enable the ability to create customized behavior. Here, you should choose an option where a survey is sent only when the customer's case is resolved.

If this is your first time on this setup will ask you to confirm the connector which you will use for automation. You may also be asked to confirm your credentials.
After validating the connector move to the option of "Create"
As soon as the setup is complete you will be taken to the survey response dashboard. There you will see various invitations and responses; there will also be flagged issues like failures on the dashboard.
The best feature of Customer Voice is the option to see visualizations of the data which comes your way. You can see these reports by choosing the option of Case Resolution Survey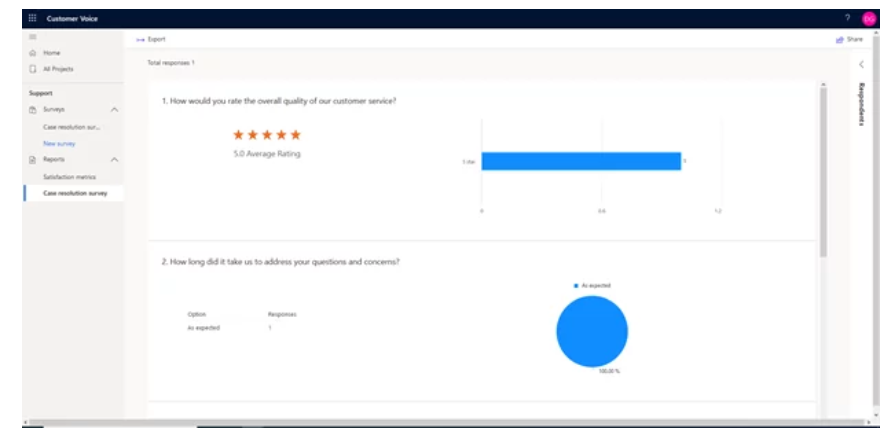 Final Word
Customer Voice is a big step in the overall improvement of Microsoft's Power Platform. Surveys are easy to create and integrate well into the system. They allow both users and system customizers to spend time on survey design to improve customer experience.