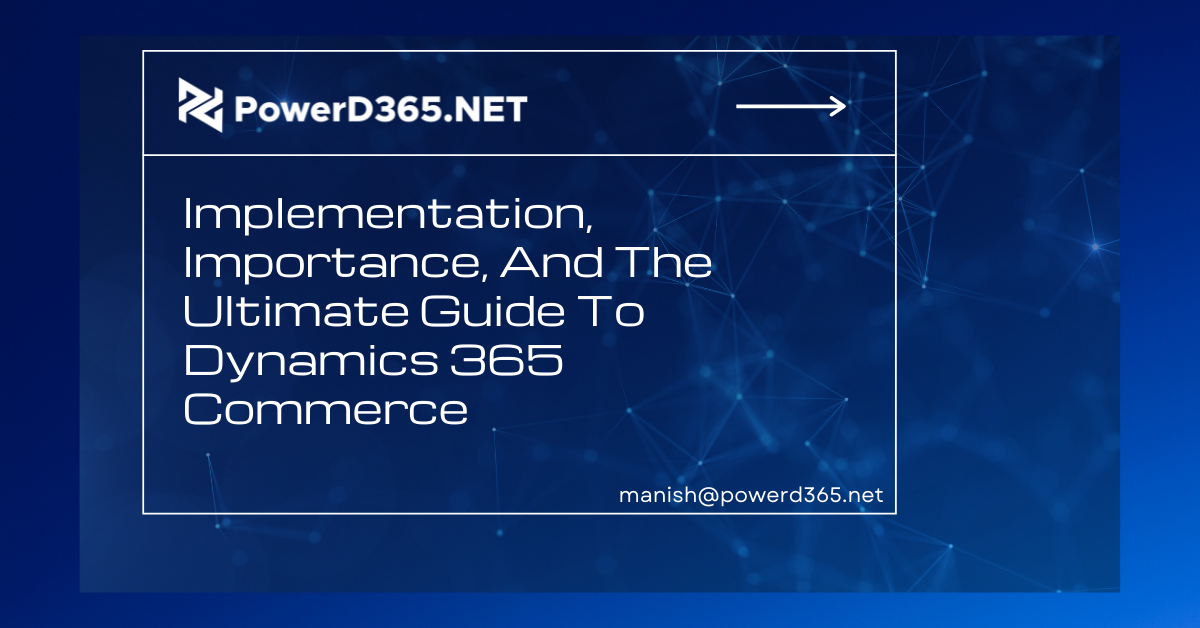 ECommerce organizations are struggling to compete and get a competitive advantage over their competitors with each passing day. eCommerce stores are unquestionably handy, and businesses can handle everything from sales to marketing to items while on the road. However, finding the ideal eCommerce platform for this reason is critical, and nothing beats Microsoft Dynamics 365 Commerce. So, are you ready to get down to business?
What Is Microsoft Dynamics 365 Commerce?
Commerce is a well-known programme that contains several components of the Retail app. It also provides an all-in-one platform that combines eCommerce, back-office, and brick-and-mortar operations.
This tool may help organizations increase employee productivity, build a loyal brand base, reinvent supply chain operations, and streamline business processes. It can also optimize sales channels, resulting in increased profits and revenues.
With Commerce, you'll have access to a variety of Microsoft-designed and created technologies that may help you boost company efficiency. Some of the components are tailored to certain sectors and promise
specified business activities. We'll go through some more advantages of the Commerce app in the section below, including the following:
Customers can have ownership of the purchased items because they have the ability to select when, where, and how the products or services are delivered through cross-channel customer engagement.
Because it establishes a consolidated platform with customer-related information, it aids in the development of client loyalty. It will comprehend the company's requirements, cater to them, and cultivate long-term client connections. Furthermore, AI technologies have been added into the tools to assist build the brand.
The accessible applications are ideal for eCommerce since they give end-to-end functionalities that scale up to match the demands.
It develops frictionless site features to provide clients with a secure business experience. Because the back-end functions have been thoroughly optimized and integrated with machine learning and artificial intelligence, this is the case.
Finally, Commerce is adaptable enough to accommodate a wide range of operational needs, making it ideal for integrating a scalable shop. Furthermore, it is capable of adhering to security and compliance rules.
Microsoft Dynamics 365 Commerce: What You Should Know
While purchasing Microsoft Dynamics 365 Commerce may appear to be straightforward, getting started with it involves some attention. This is due to the fact that there are several characteristics that you are
unaware of, and several considerations must be considered. So, before you invest in Commerce, here are some things you should know.
Microsoft Azure & LCS Accessibility
To begin, LCS is Microsoft's Lifecycle Services site, and having access to it in conjunction with Microsoft Azure would enable smooth operations. You must have access to the Azure subscription, the eCommerce system, the group ID, the moderator group ID, the AAD tenant ID, and the ad rating group ID.
Some features aren't available.
If you wish to install your store on-site rather than in the cloud, there's a risk you won't have access to some functionalities. This is due to the fact that the on-site deployment has restricted capabilities. You won't be able to upload data to cloud infrastructure.
Third-Party App Compatibility Issues
When it comes to the Dynamics 365 software suite, it has a variety of suitable add-ons and plugins that may be combined with other Microsoft programmes to build a potential eCommerce platform. It may also be used with Shopify, WooCommerce, Magento, and Magento 2, but not with any other platforms.
Aspect of Pricing
The cost for Microsoft Dynamics 365 Commerce may be out of reach for small and medium organizations. This is because a user costs roughly £135.70 per month, and if you want to use the customer insights tool, you'll have to pay thousands of dollars. In addition, there will be an additional fee for fraud protection. As a result, only huge whales will be able to utilize this app, and because it may incorporate Azure infrastructure transfer, migration prices would rise even more.
Some of the Most Common Complaints
Sure, it offers a lot of advantages, but there are three major issues that Microsoft Dynamics 365 doesn't appear to address. The difficulty to change the server codes, the need for technical expertise, and the management of enormous volumes of data are among the criticisms. The company procedures will be simplified as a result of these complaints, and you will be required to learn too much. To recap, if you're running a large-scale business, it's a helpful and beneficial platform. It will expand the availability of the functionality even if you already have some computing platforms installed.
The Benefits of Using Dynamics 365 Commerce
Allow for customizations and is simple to set up.
Its development tools and built-in web-authorization capabilities make it simple for eCommerce business owners to set up Commerce. It enables firms to tailor their needs and scale up to suit changing demands.
Sales & Insights Have Increased
Commerce includes a number of applications and AI technologies that allow you to connect to the Microsoft ecosystem. Customer insights, inventory, store assets, pricing, finance, marketing analysis, sales analysis, and fraud prevention will all be available as a consequence. Both online and brick-and-mortar retailers will benefit from the combination of these information.
Customer Experience Optimization
You may monitor customer behavior, gain new customers, manage business connections, and retain existing customers when CRM is
integrated. Additionally, company owners may implement loyalty programmes in order to attract new consumers and reward existing ones. You'll also be able to make intelligent choices about adjusting the marketing strategy, increasing engagement, and increasing revenue and leads. Not to mention, it makes it simple to deal with one-time transactions and cart abandonment difficulties.
Data Access in a Flash
As previously said, Commerce is a cloud-based software, making it a centralized platform. With only a few clicks, company leaders will have instant access to insights and other data.
Upscaling
Businesses no longer have to worry about excessive system requirements or physical storage when adding new applications thanks to cloud configuration. Scaling the firm will be easier as a consequence. On top of that, it manages upgrades and data security, keeps them up to date, and converts them into useful outcomes for enterprises.
A Well-known Brand
Working with a well-known brand name is usually preferable to experimenting with a brand you've never heard of. Despite the fact that Commerce is a new software, it was built by Microsoft, which has a strong presence in the sector. As a result, there will be more beneficial outcomes, and companies will profit from expert insights.
Configuration for Omnichannel
To ensure excellent interactions with customers, commerce is created using omnichannel design across developing and existing channels.
Value
The deployment will be significantly faster with the cloud architecture, and the investment requirements will be reduced, resulting in increased value and returns on investment. It also includes frequent improvements, allowing you to improve overall functionality and continually adding value to the business. Because Security Commerce is recognized for its automated upgrades; it will be able to repair vulnerabilities while maintaining the highest encryption and security requirements. All data will be kept safe, and only authorized devices will have access to the system. It also has fraud-prevention tools, allowing company owners to monitor online transactions, spot fraudulent behavior, and take immediate action.
Putting It All Together
Microsoft Dynamics 365 Commerce was created to assist with financial and business processes. It's evolved into an all-in-one solution for enterprises, with a plethora of capabilities. From a greater return on investment to easy setup and security features, there's something for everyone. It has everything a company requires to grow and prosper. So, are you going to get your hands on Commerce?