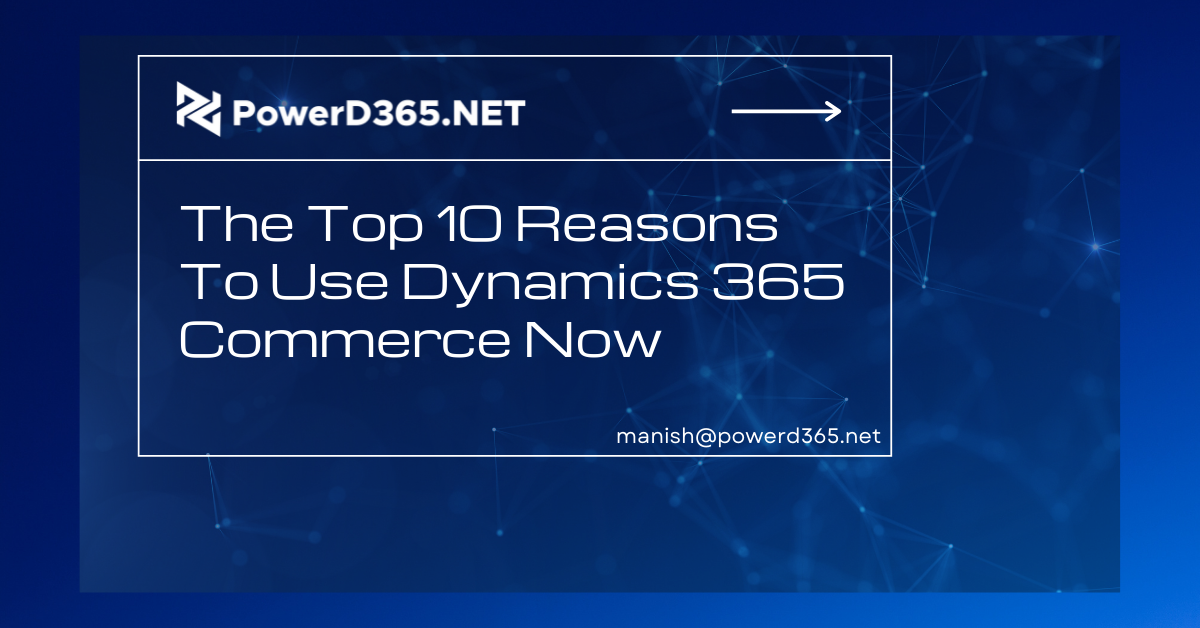 Businesses are increasingly recognizing that now is the right moment to install Microsoft Dynamics 365 Commerce software. The retail sector has been evolving for a long time, but never more so than with the COVID-19 limits and changes. Many shops are discovering that eCommerce is their only option for staying in business and serving their consumers.
Industry Changes in Retail and eCommerce
In the ever-changing world of business, COVID isn't the only issue to consider. New problems are also posed by other developments and breakthroughs. Retailers are increasingly opting for end-to-end omnichannel solutions to address these issues, which include:
Customers who are tech-savvy have driven merchants to reconsider their business strategies and take advantage of internet markets.
A rise in demand necessitates inventory accuracy and optimization.
Employees must have access to the correct information at the right time to satisfy consumer expectations.
Customers' perceptions of internet purchases have risen as a result of the availability of product reviews.
Retailers must offer the tools they need to accomplish their jobs as a younger, more technical workforce arises.
Both retailers and consumers are seeking for the "ideal" omnichannel experience.
In the eCommerce market, data security is a must.
Because no two business are same, there will be no two eCommerce solutions. There is no one-size-fits-all solution that will work for every business.
With its configurable Microsoft Dynamics 365 Commerce, Microsoft is tackling retail-specific concerns. Dynamic 365 Commerce is a Microsoft omnichannel eCommerce system that connects digital, online, in-store, and back-office activities.
What are the advantages of Microsoft Dynamics 365 Commerce?
Not every eCommerce platform is the same. Here are ten reasons why Microsoft Dynamics 365 Commerce is the best solution for your retail and eCommerce needs:
Omnichannel — Microsoft is committed to innovation across all channels. You may rest easy knowing that your solution will stay up with the times without becoming outmoded. Dynamics 365 Retail, for example, is now Dynamics 365 Commerce. The upgrade improves consumer contact by providing a more comprehensive omnichannel synergy across all existing and new platforms. Dynamics 365 Commerce adds eCommerce expertise to the Dynamics 365 family with a new moniker and broader omnichannel features.
Flexibility — Dynamics 365 Commerce offers a great deal of flexibility. You may use it on-premises or in the cloud. Because of Microsoft's sealed deployment strategy, you may simply add alterations or additions to the product without affecting the core functionality. With a single click, you may add functionalities to your whole network.
Efficiency — Dynamics 365 Commerce is simple to set up and use. It may be put on the Cloud practically quickly, and templates are included for setting up your company's critical data and processes. It's simple to upgrade the solution, and it can be done concurrently across all seats, guaranteeing that all workers have access to the most up-to-date features. As your company expands, your solution will readily scale.
Value — A cloud solution allows for speedier deployment and a lower initial expenditure, resulting in a higher return on investment. Easy upgrades also provide you access to the most recent features, which adds even more value over time. Retailers have the opportunity to own the finest at the greatest price. Magento, Microsoft's rival, is pricey and, although having a lot of complex features, may be difficult to use without a developer. Another eCommerce alternative, Shopify, is less expensive, but it lacks the capabilities of Dynamics 365 Commerce.
Intelligence — Dynamics 365 Commerce also includes cutting-edge data visualization and artificial intelligence solutions to assist you in making fast and educated decisions. Advanced analytical tools aid in the delivery of data-driven forecasts and personalized insights. Recognize your consumers' preferences and adjust your services to their needs. Among eCommerce systems, Microsoft's analytical skills are the finest.
Security — Microsoft Dynamics 365 Commerce can keep up with the newest security features thanks to cloud deployment and regular updates. Your business data will be well-protected, and you'll be able to manage your mobile devices effectively via the Cloud and access your data from anywhere using the most up-to-date, best-in-class security. Fraud protection is included into Microsoft Dynamics 365 Commerce. Merchants may use Dynamics 365 Fraud Protection to examine all online transactions, assign a fraud score, and approve or reject the transaction.
Integration — Dynamics 365 Commerce works hand in hand with other Microsoft Dynamics products including Dynamics 365 Finance & Operations, as well as popular Microsoft productivity tools like Office 365, Azure, and Power BI. Dynamics 365 Fraud Protection, Dynamics 365 Customer Insights, Microsoft Bing for Commerce, and other services can be linked with Dynamics 365 Commerce. The common shared data service supports integrations and data sharing across Dynamics 365 Business Applications such as Dynamics 365 Sales and Dynamics 365 Marketing. The e-commerce platform also comes with a full-featured content management system. Magento and Shopify both provide a variety of connectors, however Magento's are more complicated and require the assistance of a developer, while many Shopify plans do not allow for extensive functionality. Only Microsoft makes it simple to integrate.
Support — When you use Microsoft's eCommerce Solution, you have access to Microsoft's network of partners and products, as well as professional guidance on how to get the most out of your eCommerce solution.
Ease of Use — Because of its familiar, user-friendly design, Dynamics 365 Commerce is simple to use. Complex operations like inventory planning may be completed in Excel and synchronised with Dynamics 365 Commerce seamlessly because to Microsoft's strong connectivity. Magento, especially its complex capabilities, is not simple to use. Shopify is easier to use, however it is not suitable for difficult or advanced jobs.
Innovation — Microsoft's solutions are all slashing, and Dynamics 365 Commerce gives you access to Power BI, Azure, and other Microsoft services. You may use these technologies to evaluate consumer preferences, provide personalized service, and suggest relevant items using these tools.