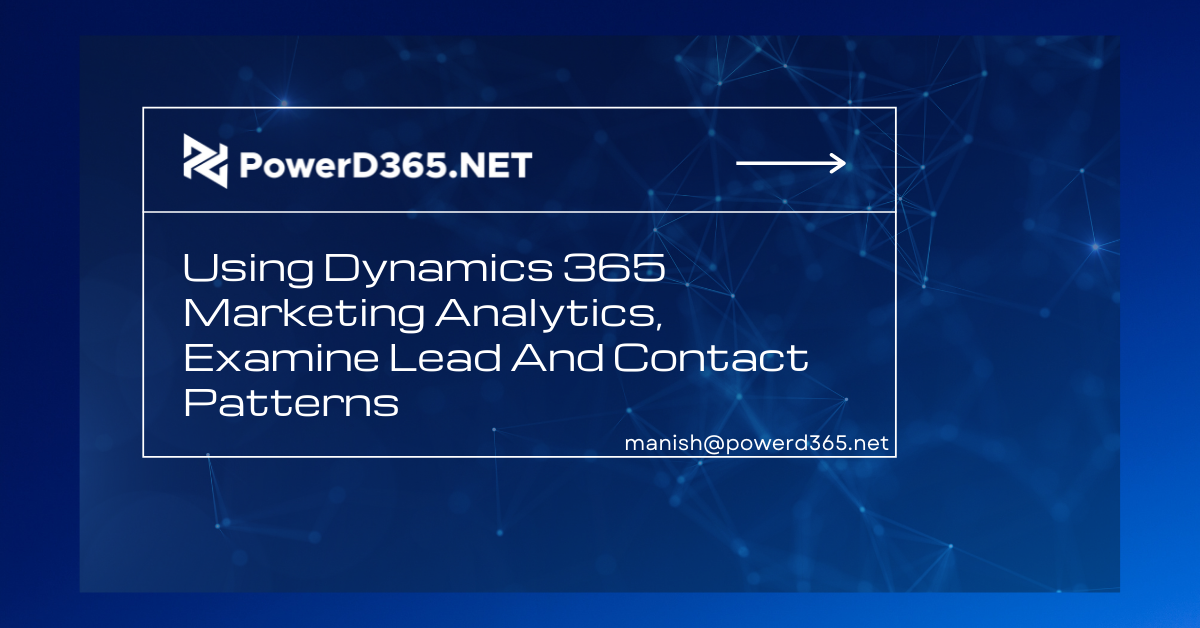 Use dynamic 355 marketing's  smart insights and analytics to get the most out of your team's diverse marketing efforts. Using analytics to measure the accomplishments and pain points of marketing initiatives is a simple but powerful approach to see what's working well and how to fill in the gaps. Making informed judgments about future campaigns, marketing content, tactics, customer journeys, social media, and so on necessitates the use of this type of data.
For practically all entity types, Dynamics 365 Marketing includes analytics, which may be easily accessed by accessing a record's insights tab.To get the most empirical bang for your data-driven buck, toggle through what you need and filter results by date range or usage (i.e., where and how material was used).
You've decided to measure marketing analytics, but you're not sure where to begin. Here's a quick rundown of some of the metrics you can follow using Dynamics 365 Marketing insights, as well as how to use the information to make better, more educated decisions.  
BEHAVIOUR OF CONTACT
Standard marketing analytics practice is to look at how contacts, customers, and prospects interact with your data, but Dynamics 365 Marketing allows you to go deeper and personalise content to each contact. Information on how contacts engage with e – mails, online forms, event registrations, subscription lists, and more can be used to plan and manage future campaigns better and more effectively. After all, who doesn't want a faster return on marketing initiatives? 
Statics, analytics, and KPIs delve into the nitty-gritty of which links a contact did click on your website, which pages they opened, and even how long an email sat unopened in their inbox—and savvy observations feed into features like automated email scheduling, which creates a probable finest send time for each email for each contact.
Keeping track of how contacts engage with marketing content helps to clarify the influence of your work, figure out what works effectively, what can be changed, and how to boost performance on a continuous basis. 
LEADS
The cornerstone of sales and marketing efforts is establishing a connection with a prospective customer, but understanding what material to create to keep leads engaged can be difficult. By collecting individual lead ages (how long the record has been active) and how their attention has evolved over time, merged with account leads interactions (connections with all affiliated contacts connected to the account), using analytics to gather insights on leads pulls in more data to improve lead forecasting models.
Lead analytics can and should be utilised to drive the methods in which leads are nurtured, with clear acquisition and engagement strategies. You can also evaluate recruitment expenses vs. return on investment (ROI) on each lead after the fact to fine-tune methods and work more efficiently.
ANALYSIS OF WEBSITES
Everyone wants to know how much traffic their website is getting, but you should look at more than simply page views. In addition to tracking website visits and page views, Dynamics 365 Marketing produces and records scripts when website pages are loaded, forms completed and submitted by contacts, and even if website pages hosting forms are read anonymously or by existing contacts.
Certainly, website analytics provide information about your site's successes, critical it's to understand what on your site performs well to drive interest and web traffic. However, it's possible that it's more necessary to think about the failures and pain areas as well. Is there a particular page with vital information but little traffic? Do visitors become frustrated with the user interface and abandon a call to action before completing it? Connecting specific data to the overall picture can help you answer a key question about website functionality: what are visitors seeking for on your site, and are they finding it?
Based on the data acquired regarding accomplishments, pain spots, and growth opportunities, good content management may and should be used to fulfil the goals of your website presence, the purpose of your content, and your capacity to optimise your website for a better user experience to drive success.
JOURNEYS OF CUSTOMER
Using Dynamics 365 Marketing to create customer journeys takes the guessing out of lead nurturing and marketing. Automated journeys help marketers target prospects across the sales funnel, so there's little doubt that the data gained will be useful. Users can examine customer journey data in three distinct ways: the Insights overview, insights in the Journey Designer tab, and insights related to Incomplete Journeys.
To provide useful information at a glance, the Insights summary provides basic trip outcomes, such as how many contacts interacted with emails, marketing pages, and how they went through the steps of the journey.
Viewing Insights within the Journey Designer tab may be the most intuitive and satisfying way to view journey metrics for people who are familiar with developing customer journeys. The Designer tab Insights has the same interface as the journey designer, but the pipeline and journey KPIs are read-only. Each tile shows how contacts interacted and flowed through it, and you can view data to see breakdowns for each conceivable interaction activity (called "dependencies") and how many contacts participated in each sort of interaction at each stage of the journey.
You may observe each reason why a contact was unable to finish the journey if it was not completed for any reason or if messages were not delivered as intended. Contact consent (due to data protections the contact enacts themselves or through an external data protection system) or email soft bounces (such as if emails have bounced numerous times in a row, perhaps due to mailbox or server troubles) are examples of stopped contact incompletions. Blocked email incompletions indicate that the system failed to send specific messages, most often owing to a contact's preferences or a technical issue with the email. 
Journey statistics can assist you in identifying where consumers are having difficulty in the customer journey process and adapt steps as needed—they can be simplified, improved, or altogether redesigned to better allocate resources. Taking a fresh look at how customers interact with your company allows you to tailor the trip experience in order to better target each customer, lead, and prospect while altering strategies as needed. 
JOURNEYS OF REAL-TIME CUSTOMERS
The ability to perform real-time customer journey, which allows users to construct event-based journeys, communicate with consumers with customizable event triggers, employ AI insights and suggested actions, and more, is a new feature that sets Dynamics 365 Marketing apart from the competition. Real-time journey analytics can reveal pain areas, triumphs, and how closely the journey results match the goals and objectives. Using these analytics provides a once-in-a-lifetime opportunity to take immediate action in response to real-time data.
Journey operational analytics may help you evaluate how various branches operate in a real-time journey and show which branches are functioning well in terms of goal analytics, channel analytics, and AI optimization.
View overall journey efficacy, audience participation, channel engagement, performance, and more by aggregating cross-journey data into a dashboard of power BI  visuals with relevant metrics and insights for all journey orchestrations.
Examining data from a changeable environment like real-time journeys can provide you with the skills you need to strike a balance between the many types of content and resources you're managing for your audience. Considering data can provide a more complete picture of what works and what doesn't, ultimately assisting you in determining how to change and modify strategies over time to get the most out of marketing efforts aimed at all types of customers.
Get started
Dynamics 365 Marketing provides a comprehensive set of marketing tools and technologies, all housed in a slick, unified user experience. Fill out the form below to speak with one of our CRM advisors about simplifying your marketing strategy and finding an all-in-one solution. We'll work with you to come up with a game-changing strategy that won't break the bank.