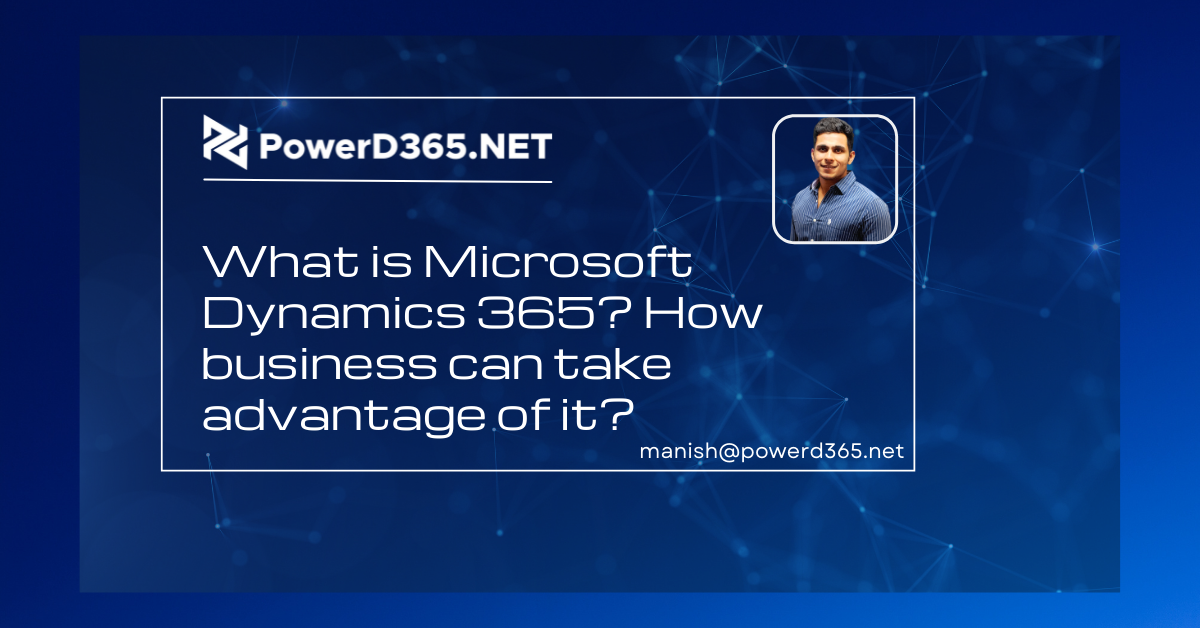 Microsoft Dynamics 365 is a platform that brings ERP (Enterprise Resource Planning) and CRM (Customer Relationship Management) software, as well as Extensions and AI (Artificial Intelligence) functionalities. It allows insights and freedom to thrive by connecting data, teams, and business processes with intelligent business applications. Continue reading to learn more about what Dynamics 365 is all about.
Insufficient flexibility, complexity, lack of technological participation, communication, and other challenges are all addressed by ERP and CRM software. Working with numerous software systems becomes difficult, thus Dynamics 365, or D365, was created to make life simpler. Despite the difficulties, D365 provides users with flexibility while also simplifying communication for improved customer engagement and operations.
Extremely Adaptive
Apps that are extremely adaptive Dynamics 365 apps may be tailored to your business's demands as well as unique departmental specifications. Each programme is meant to operate well on its own, but when used together, they are much better. You choose which app to start with and add others as needed to accommodate your users' preferences. These browser-based apps may be accessed from any location and on any device, and there is also a large selection of mobile apps. You still have complete control over how the services and apps are configured to fit your business and security needs thanks to the administrator tools included in the box. You may also utilize the Microsoft Power Platform to create unique, automated data experiences.
Although the list of Microsoft Dynamics 365 products is continually evolving, the apps listed below serve as its key components:
1. Dynamics 365 for Finance and Operations (also known as SCM): This software allows you to manage your finances and operations in one place.
Dynamics 365 for finance and operations enables a company to get improved financial visibility in order to assess its financial health, implement stronger financial controls, and improve operational efficiency by changing supply chain processes. It is concerned with establishing a solid supply chain to guarantee that corporate operations run smoothly. Furthermore, Dynamics 365 contributes to business continuity by implementing effective distribution and manufacturing processes at the edge and in the cloud.
Keeping costs and expenditures to a minimum and optimiztion.
AI-driven insights can help you make better financial decisions.
Intelligent manufacturing techniques are being implemented.
Predicting roadblocks ahead of time and taking swift response.
2. Sales using Dynamics 365:
Dynamics 365 for sales is a collaborative sales engagement system that employs artificial intelligence to boost revenue, predict sales funnels, and manage them. It assists salespeople in building strong client connections by keeping track of accounts and contacts. It may be used to convert leads into orders, take action based on insights, and complete sales more quickly. It includes a number of advantages, including:
Obtaining consumers using their favorite communication route.
Streamlining the sales process by concentrating on high-value tasks.
Forecasting income variations and identifying key areas of attention.
Getting a customer's perspective using real-time data.
3. Customer Service with Dynamics 365:
Customer service using Dynamics 365 Customer communication is improved because to self-service portals and support agents. It is based on the primary principle of gaining consumers for the duration of a company's existence. It also has the following advantages:
Self-service support systems that were already automated.
Interactions with customers that are tailored to their needs.
Agent productivity is increased because to AI-driven technologies.
AI-driven insights were used to improve the consumer experience.
IoT signals are being used to give high-quality services.
4. Field Service using Dynamics 365:
The aspect of Dynamics 365 for field service that involves planning and allocating resources, as well as managing on-site service contracts, is covered. Their main goal is to provide great service to its clients. With expertise and data insights, field service has progressed from reactive to proactive to predictive services. Their goal is to provide high-quality experiences that are tailored to the changing demands of customers. It includes a number of advantages, including:
Personalized customer engagement builds loyalty and trust.
Increased employee performance by giving them the correct tools at the right time.
AI-driven technologies increase first-time fixed rates.
Using IoT to gain greater insights and remote expert help (Internet of Things).
5. Marketing with Dynamics 365:
To help with marketing, Dynamics 365 for marketing integrates Microsoft Dynamics 365 with Adobe Marketing Cloud. The marketing module maintains the company's loyalty through strengthening client connections by offering them with high-quality experiences. Customers are given the necessary information through the appropriate channels, allowing them to interact with them in real time. The following are some of the advantages:
Creating and distributing material through the appropriate channels.
Customer loyalty as a means of gaining clients
Using AI-driven insights to improve the consumer experience.
Creating a uniform platform to safeguard client information.
6. Project Service Automation using Dynamics 365:
Project planning, resource allocation, and time and cost management are all covered by Dynamics 365 for project service automation. It aids in the provision of useful future insights and effective management experiences. It aids in the management and tracking of a company's transactions in relation to its value. This module tries to bring project-based business together in a single application. It includes a number of advantages, including:
Increasing the project's chances of success.
More efficient use of resources.
Time and expenditure management has improved.
Experiences in management that are second to none.
7. Dynamics 365 for Commerce (Dynamics 365 for Commerce) is
This module of Dynamics 365 Commerce combines commercial aims with business tools, operation management, employee, and store administration. It is concerned with providing consumers and partners with an integrated, smooth, and personalized purchase experience. The commerce module adds the ability to buy across all platforms. It also includes a number of advantages, such as:
Providing customers with the ability to purchase from any device.
Customers and partners are brought together on a single platform.
Dealing with unified solutions that help businesses grow up their digital commerce.
Using user-friendly software to streamline processes.
8. Dynamics 365 for Human Resources (Dynamics 365 HR):
Dynamics 365 for Human Resources is a cloud-based HR solution that integrates with LinkedIn to find and hire qualified employees. Hiring talent may need a comprehensive examination of LinkedIn profiles in order to isolate the finest from the rest. It tries to build a healthy workplace that is productive for both the company and its employees, and it considers simple services like Microsoft Teams and HR systems to aid in this venture. It includes a number of advantages, including:
Employee experiences that are rewarding.
Compensation and compliance programs are being optimized.
Better HR solutions are improving organizational capability.
Using useful workforce insights to make better decisions.
Dynamics 365 Queries: Possible queries that can pop up in your mind.
Here are some often asked questions that may occur in your mind— the answers will point you in the right direction, allowing your uncertainties to fade.
What is Dynamics 365 and how does it work? What is the rationale behind it?
Customer Relationship Management (CRM) and Enterprise Resource Planning (ERP) components are included in Dynamics 365, a cloud-based package. It's a platform that works with Microsoft Dynamics 365 CRM and Microsoft Dynamics 365 ERP to create a product line for various business apps.
What are the most important new features and traits in Dynamics 365?
The most notable new features in the Dynamics 365 domain include simplified duplicate detection, improved email templates and email experience, a preview of a new sales mobile application, redesigned and updated automation designer, intelligent global search, field service inspections, and a new mobile app for field service.
What are the different licenses options for Dynamics 365?
Customers can choose from a variety of license options depending on the degree of access they require. For example, there are three types of Subscription License (SL): User SL, Organizational SL, and Device SL. It also differs depending on whether you're a full user, a team member, or a tenant-based SL. As a result, it's a good idea to start by determining your level of requirement.
What factors should you consider while selecting a Microsoft Dynamics partner?
You must make your own assessment based on partner skills, industry experience, transparency, and a proper track record of project delivery. It's a good idea to think about these factors and find a person who meets your needs
Is there an on-premise version of Dynamics 365?
Yes, Dynamics 365 may be installed locally.
Is it possible to upgrade from my current Dynamics ERP/CRM solution to Dynamics 365?
Yes, you may migrate to Dynamics 365. Data mapping, picking simplified features, selecting migration tools, developing migration scripts, integrating, testing, resolving any data queries, and lastly deploying it to your environment are all steps in the migration process. If you require assistance, Tech Mentor can provide it right away.