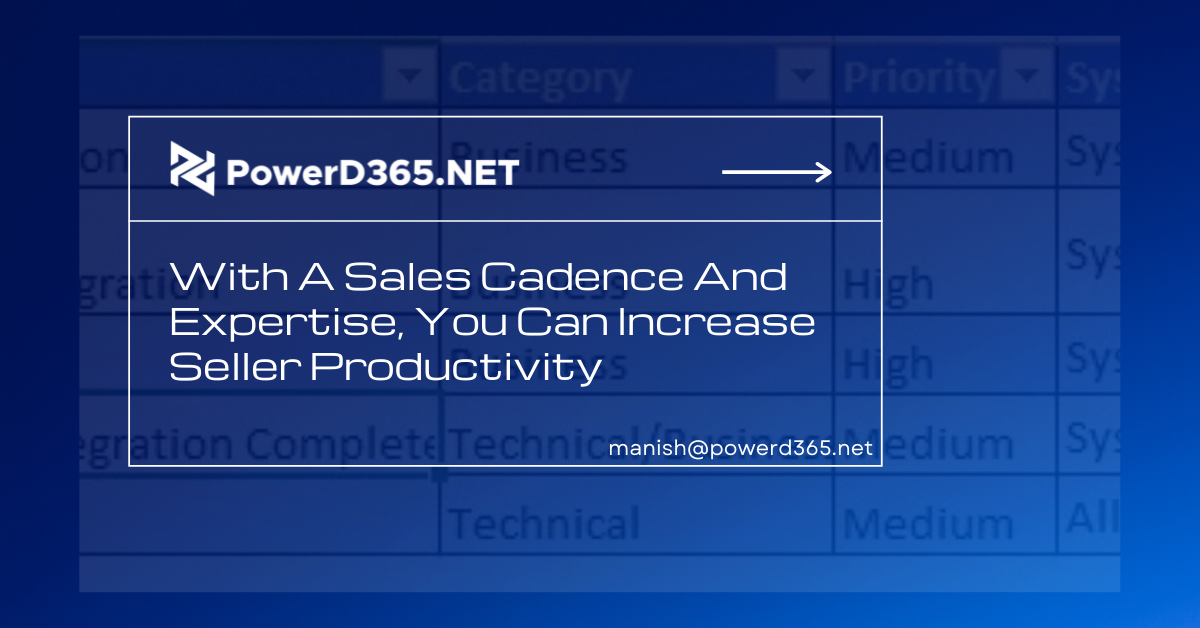 Planning is crucial in sales. Without a strategy, a salesperson may give up on a prospect too quickly or appear overly aggressive. A potential consumer may forget about a proposition or feel irritated if you approach them too frequently. A sales cadence is built on the creation of a step-by-step plan on how to follow up with prospects at each stage of the sales process. Microsoft Dynamics 365 Sales features enable you to design, manage, and grow customized sales processes throughout your company.
Top salespeople have a well-thought-out strategy for achieving their objectives, whether they're showcasing a product or following up on leads. Knowing where your prospects are in the buyer's journey and understanding how to approach them in the right way, with the appropriate message, at the right time to advance them to the next step is key to a successful plan, or sales cadence.
If you don't plan ahead of time, you're intending to fail.
A modern phrase.
This article will teach you how to:
 What exactly is a sales cadence?
 What to think about while creating a sales cadence
 What does a good sales cadence look like?
 How Dynamics 365 Sales may aid in the development of a sales cadence
What is the idea of a sales cadence?
A sales cadence is a step-by-step strategy for connecting with prospects and closing sales. A sales cadence is a set of activities that occur at regular intervals, such as reaching out on LinkedIn, sending emails, making phone calls, sharing case studies, scheduling meetings, and sending text messages.
Sales professionals are more efficient when they have a good sales cadence. A sales cadence instructs salespeople on which prospects to contact, how to communicate with them, and what information to offer at each point of contact. This method eliminates guesswork and attempts to increase sales flow and conversion rates.
Managers develop a sales cadence to help sales staff deal with various sorts of prospects and sales scenarios. One cadence may be utilized for inbound inquiry leads and another for upcoming renewals, for example.
Organizations can modify their cadences as they grow older to fit unique areas, industries, firms, languages, and other factors.
A solid sales cadence library also aids in the scaling of your sales team. As your company grows, automated sales cadences make the onboarding process for new sellers easier by incorporating best practices and timing their operations.
What is the key to creating a sales cadence?
Consider the following five components while creating your sales cadences:
A) Prospects
Knowing your target customers is the first step. What problems or stumbling blocks do they face? What is the problem for which they are looking for a solution? What are the platforms that they use? What
limitations do they have to deal with? What abilities do they possess? Who makes the decisions?
B) Channel of communication: Use the appropriate method to contact prospects, such as email, phone calls, messaging applications, or LinkedIn.
C) Time pause: Consider adding a deliberate pause between each following stage. In your follow-ups, you don't want to be too early or too late.
D) Attempts: Determine the most effective number of touchpoints for establishing contact and developing a relationship.
E) Interact: To interact with clients, use the correct messaging, content, tone, and personalization.
It's crucial to keep in mind that developing a successful plan is a multi-step process. Fine-tuning your sales cadences takes time and iteration.
A sales cadence for incoming queries, for example.
Here's an example of how you reply to inbound inquiries using a sales cadence.
Leads who have contacted you via your website or other ways.
To enhance your conversion rate, focus on and reply to high-priority queries.
You are more likely to get a greater conversion rate if you answer quickly and across many channels.
Start with an automated email response, then follow up with a phone call, because responding within the first hour enhances your chances of closing the deal by seven times.
Connect on a social networking site such as LinkedIn. Finally, send an email with useful information about your product or service.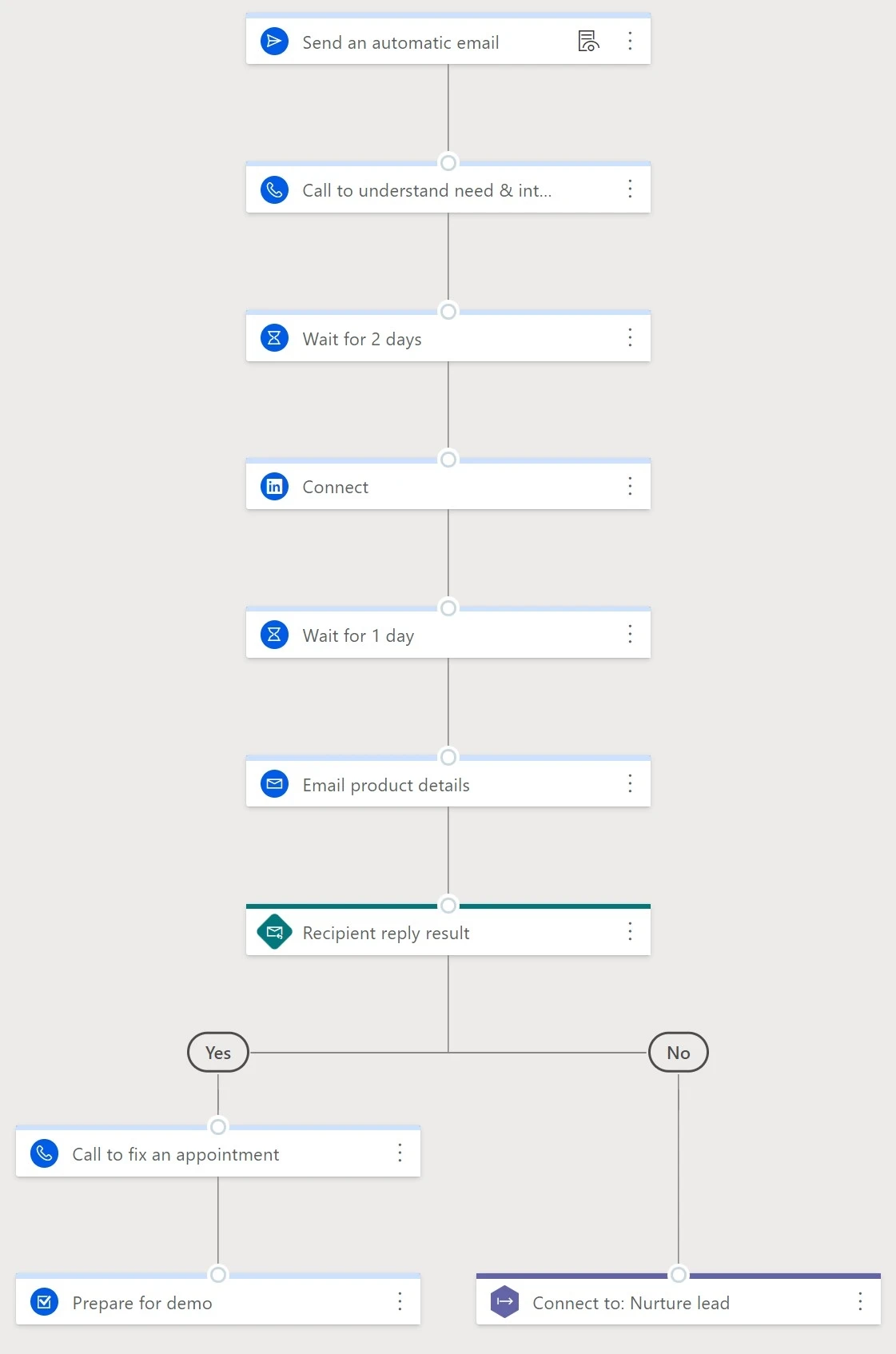 With sequence designer, you may create a sales cadence.
Dynamics 365 Sales' sales acceleration feature allows sellers to spend less time looking for the ideal next customer to contact. In the sequence designer, you may design and build your sales cadences. Sales accelerator integrates data from a variety of sources to create a strong and prioritized pipeline, provides context, and displays recommendations at every stage of the sales process, accelerating the sales process.
To create a sequence, go to the Sales Insights settings area and select Sequences. Check out the docs for further information: Make a sequence and start it.
You may use the sequence designer to set up activity sequences for certain prospects, leads, opportunities, contacts, and so on, using various tactics based on priority. Leads with lesser priority, for example, may have more automated email stages, but leads from targeted accounts may have more personalized touchpoints.
Sequences might have numerous tasks, with wait times between them as appropriate, like in the previous example of a sales cadence. If an email is opened or a response is received, you can branch operations based on the response. You can even send LinkedIn InMail or issue a connect request as part of your sales cadence thanks to sales accelerator's close connectivity with LinkedIn.