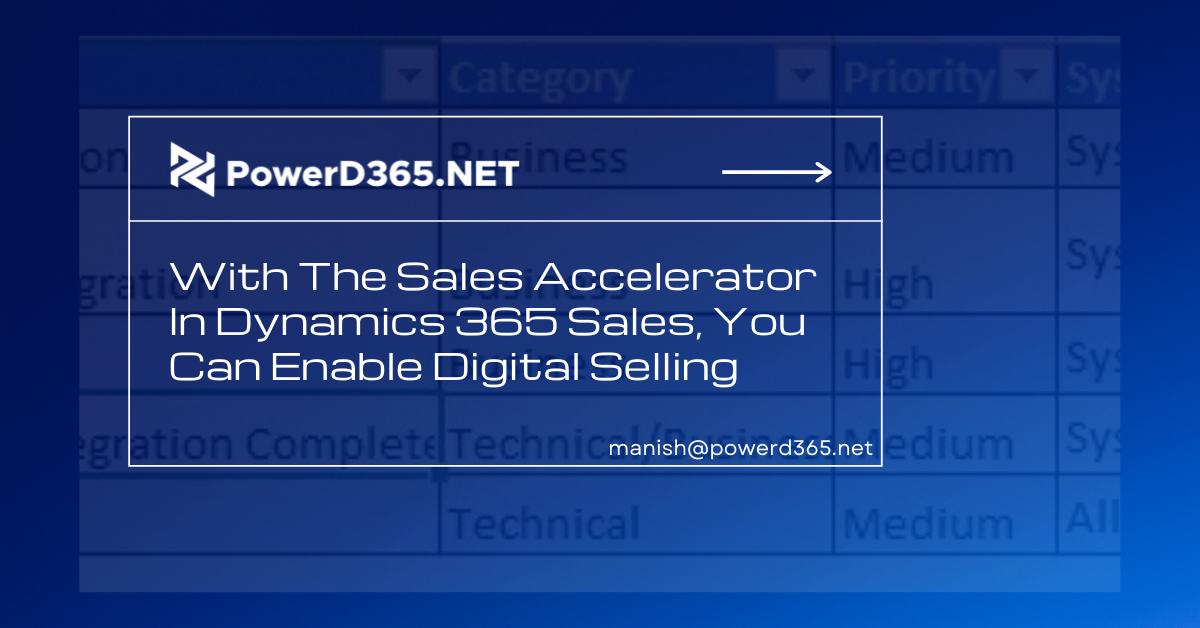 Customer relationship management tools were formerly recognized by many sales firms as merely process-driven data repositories or systems of record. Sales personnel had less time to create productive contacts and sell since they had to spend hours manually inputting data. This strategy, however, is becoming more untenable for businesses, as knowledgeable, modern purchasers demand sellers to communicate with them in real time across nearly every digital channel and platform.
Transforming business practices
Dynamics 365 Sales' Accelerator, a digital selling tool, aids sellers in transforming their business practices in today's digital realm. Sellers rely on the system to gather important information from numerous sources, develop a prioritized workflow, provide additional context, and surface automatic recommendations throughout the sales process, rather than spending so much time on laborious data entry. They may also communicate with consumers through integrated email and phone calls, allowing them to interact with them on their chosen channels.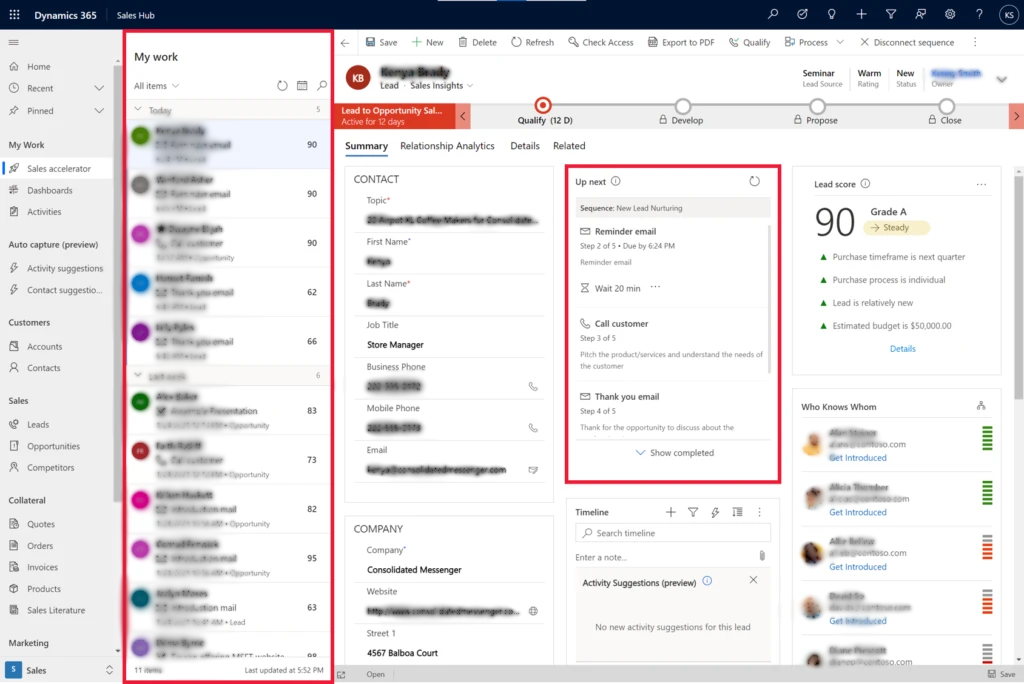 In sales accelerator, an example screenshot shows the intelligent work list and the 'up next' widget.
With an intelligent work list, you can focus on the relevant deals.
A typical seller begins the day focusing on a number of leads and opportunities, with various critical jobs demanding for their attention at the same time. All of the duties and activities for their leads and opportunities due today, as well as forthcoming activities, are prioritized and arranged in a task list using the sales accelerator, allowing these sellers to be more proficient:
1) Prioritized Customer
Work from a client list that has been prioritized. Sellers can decide the next best lead or opportunity to focus on using a prioritised task list. The intelligent work list displays a sorted list of clients together with their corresponding next jobs due dates. Default sorting uses a composite score to provide the next best action based on sales sequences inside the business.
2) Customize Your List
Customize the intelligent list to match your specific requirements. To accommodate your goals, sort, filter, or group by entity attributes (main fields), such as reaching out to consumers from a certain source.
3) Additional Leads Or Possibilities
In your pipeline, look for additional leads or possibilities. Identify when a new lead or opportunity is added to your task list or allocated to you so that nothing is forgotten.
Get all of the information you need about your consumers in one location.
Sellers typically struggle to achieve a holistic approach of potential consumers as they go through a big list of names, including communication history, client demands, and unforeseen circumstances. Having this perspective, on the other hand, is crucial for building a relevant sales proposal that is most able to win. To overcome this issue, the sales accelerator assists sellers in the following ways:
· Get all of the information you need in one spot.
Take use of a complete entity form that collects and presents consumer data and insights from connected entities to assist in the creation of winning messages for every communication.
· View each customer's previous history.
View past and current activity using a "up next" widget, chronology, remarks, and other facts gleaned from integrated data across the system, all accessible via tabs on the entity form.
To guarantee that your sales representatives follow best practices, use sales sequences.
Achieving good outcomes necessitates consistent experiences and clear messaging. Sales enablement managers' best practices aid in the spread and reinforcement of strong selling methods. Incorporating ideas and insights into the sales process keeps salespeople on track, maximizes every customer engagement, and raises the chance of a successful conclusion.
Sequences provide sellers with clear direction to the right action at the right time, employing the right communication channel and the proper info.
Sales enablement managers are empowered to optimize sales processes for better outcomes through a frictionless cycle and can simply execute sales tactics, while everyone on the team follows organizational best practices.
Create Sales Process.
Build sales sequences that reflect organizational best practices and sales strategies to help sellers in the moment.
Provide Sellers With Direction
Within time, sellers should be guided. Provide sellers with direction on the next steps they should take. Guidance includes advising on the best attempts to engage the consumer and the best time to do so.
Connect with consumers through a variety of means.
Sellers may engage with contacts without exiting Dynamics 365 Sales, thanks to Microsoft Dynamics 365 Channel Integration
Framework-enabled integrated communications across different channels.
· interact with consumers
Better interact with consumers via email or phone. Connect with consumers through email or phone with an integrated dialer without switching contexts.
· Use templates to create emails.
Use email templates that are matched with sales processes to connect with customers in a simple and consistent manner.
· real-time conversation intelligence insights
Using Microsoft Teams, call customers with real-time insights. Sellers may use an integrated dialer to initiate customer calls and acquire real-time conversation intelligence insights to help them be more productive throughout those calls.